We cut. You create.
Your size. Your space. Your schedule. Our plywood, precut to your configuration, front edges finished, shipped to your front door for free.
Here's How Shelf Help Works: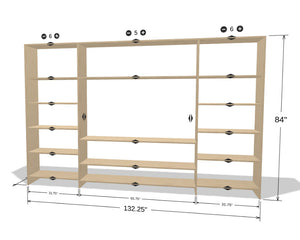 1. Design
Use our free Shelf Help Configurator to create your perfect piece.
Want the carcass pieces shipped to your front door? Purchase right from the configurator!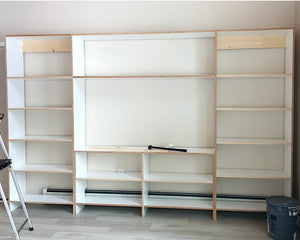 2. Build
Building the carcass is easy, you'll just need a drill and a pocket hole jig to create just about anything!
3. Customize and Finish
Customize your piece by adding trim, doors, drawers, even a barn door!
Then finish in any color, any stain, or any combination.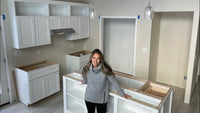 What Can You Build with Shelf Help?
Anything with a plywood case. Built-ins. Kitchens. Mudrooms. Get creative and use it for shelving, storage beds, console tables. Check out our library of free templates to get started.
View Photos of Shelf Help Furniture
How is Shelf Help Different than Flat Pack Furniture
The Shelf Help system is modeled after how a traditional craftsman would build a forever piece of furniture. Starting with using the best materials, to cutting on high end factory panel saws for precision, to recommending time tested building and trimming methods, your piece will last a lifetime and be repairable and refinishable.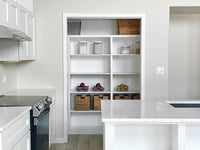 How Much Does Shelf Help Cost?
Shelf Help is comparable in cost to flat pack furniture. It averages about half the cost of fully finished furniture from retailers, and about 1/3 the cost of hiring a pro.
Apples to apples, you can save 50-70% by doing some of the work yourself!
Your Built-in Options Compared
When it comes to built in furniture - mudrooms, office systems, living room fireplace cabinets, closets and kitchens and much more, you have options in different budgets and features. Here's how the most popular options compare to the Shelf Help system.
Can I Just Cut My Own Plywood?
Absolutely! You can download drawings and a cut list from our free woodworking software.
But if you want a jump start on your project, or don't have the tools to make big, precise cuts on plywood sheets, we can help. Our custom kits come with precise, factory panel saw cuts and finished front edges, all shipped to your front door free.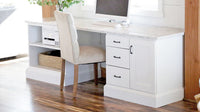 Shelf Help Project Videos
What people are saying about Shelf Help
For about 1/3 the cost of hiring a custom carpenter, I was able to build my dream shelving with no experience and just a few tools!  Shelf Help is amazing!

Sandy Jenkins, OH
I get so many compliments on my Shelf Help furniture, people can't believe I made it myself!  Thanks Shelf Help for doing the heavy lifting!

Shelby S, IN
I'm a professional finish carpenter.  Shelf Help provides me with super accurate case cuts, saving me time and money, all delivered to the jobsite.  The end product is so much better with everything being a factory edge.

Mark S, NYC
quick ship kits
Modern Shelf Desk